Wilson Kicks Off Sexual Assault Awareness Month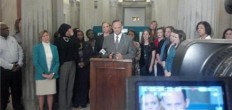 Attorney General Alan Wilson kicked off Sexual Assault Awareness Month in South Carolina with local and statewide advocates of sexual assault victims for a Day of Action in South Carolina on April 3.
April is National Sexual Assault Awareness Month, someone is raped every two minutes in the United States.
Wilson joined fficials with the South Carolina Coalition Against Domestic Violence and Sexual Assault (SCCADVASA) gathered at the Statehouse to talk about the effort to stop sexual assault crimes.
The Attorney General's office established the S.T.O.P Violence Against Women's program in 1996 to target criminal domestic violence and other abusive behaviors toward women.
Wilson will co-host "Walk a Mile in Her Shoes" will take place Thursday, April 12th at the Columbia Metropolitan Convention Center from 6 p.m to 8 p.m. To register, enter TEAM AG at STSM.org
Watch coverage of the kick off here: http://www.youtube.com/watch?v=ORfO1-wZwC0